On Saturday, June 21st, the Bakerville Library community celebrated the 65th anniversary of the library.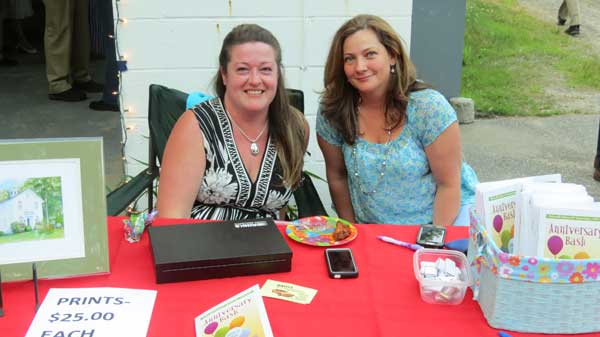 The combination of good weather, great food, and old friends was irresistible.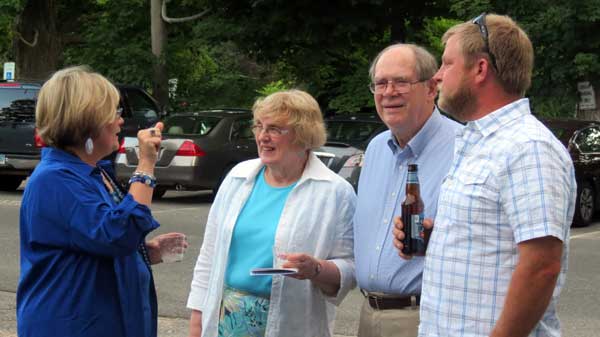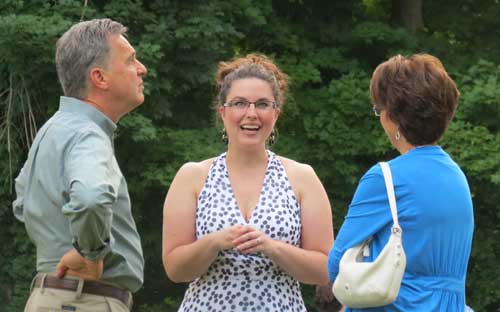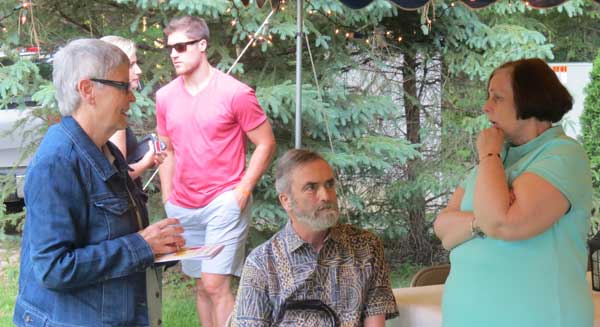 Cut to the chase, though. We honored all the past Board Presidents we could gather: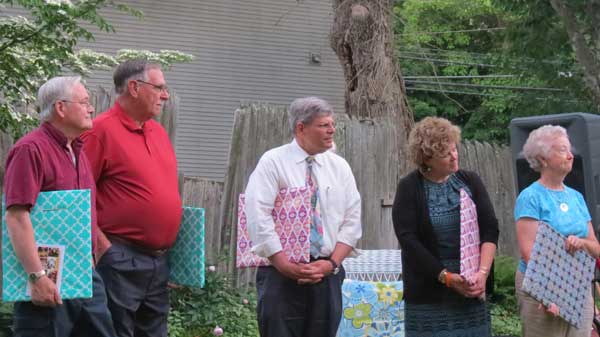 Left to right: Peter O'Brien, Arnie Helt, Neil English, Kim Ciccarello, Dianne Litchfield (and Neal Yates, just past Dianne on the right—you can't see him). Each of them received a framed print of a watercolor of the library by Priscilla Tonkin Marshall.
Then current Board Secretary Elaine Carmelich crowned Barbara Goff the Queen for the night (or, as we all know, Queen of Bakerville).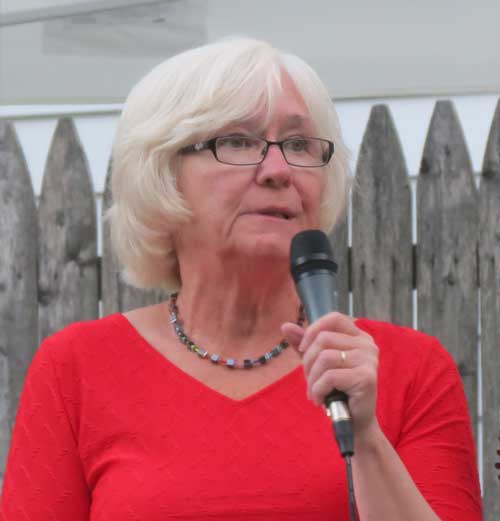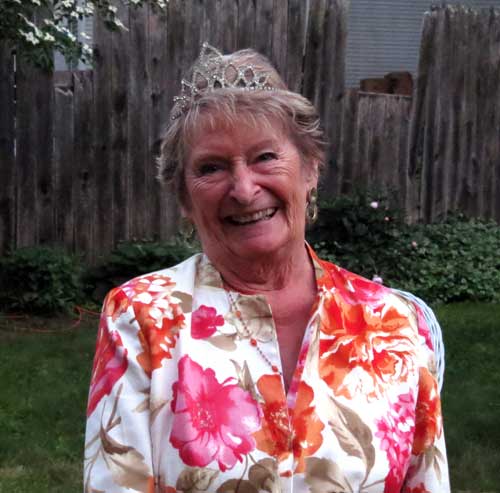 Elaine's address:
Our special honoree this evening is Barbara Goff. Barbara served on our board for almost 35 years. She has volunteered in the library for 20 years, and she was also an early member of our Friends group. Barbara has been a generous donor to our library, giving, among other things, numerous items for our teacup auctions, and our handsome flagpole in honor of her late husband, while also supporting our annual drives.
Finally, as we celebrate the 65th anniversary of our library, we would like to make note of the fact that Barbara was a student in our building before it became a library. She has been a treasured member of the Bakerville community and a valuable witness to our library's rich history. We honor Barbara Goff tonight by anointing her "Queen for the Night."
But wait, there's more!
As a lovely way to honor the Friends of the Bakerville Library, Queen Barbara draped a lei on each one present.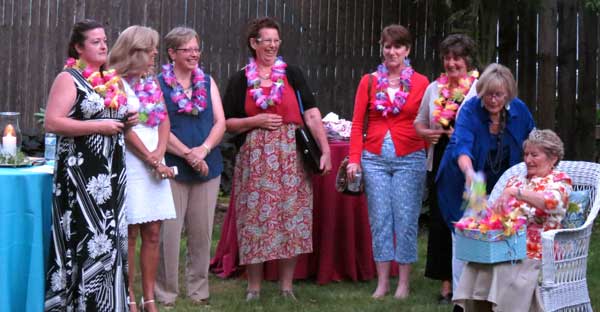 Left to right: Paulina Auclair, Elaine Murphy, Joan Auclair, Pam FitzGerald, Pat Smith, Patty Cerruto, Board President Kathy Kinane, Barbara Goff. Not pictured: Nancy Pretak, Carole Korzynski, Emily Korzynski, Deb Reardon.
We milled around outside until all hours and listened to the Benevolent Dictators.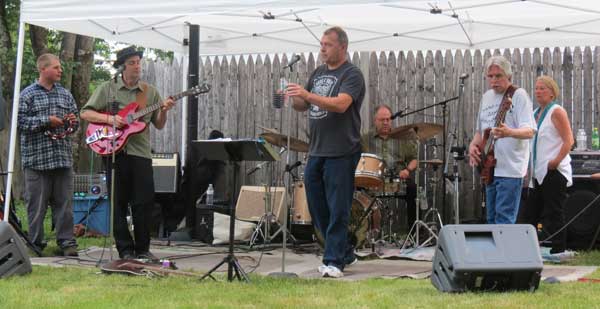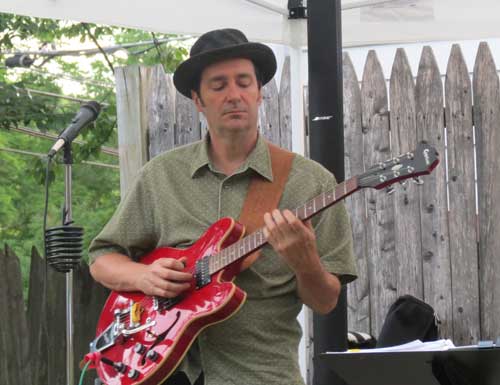 We also took advantage of the library's newly acquired space next door, the old firehouse, recently christened Annie.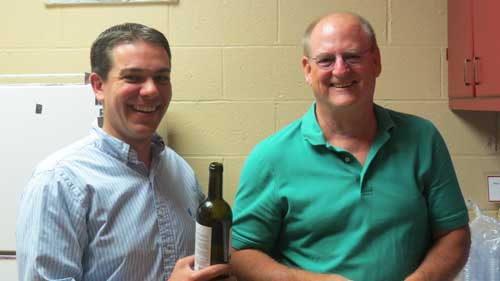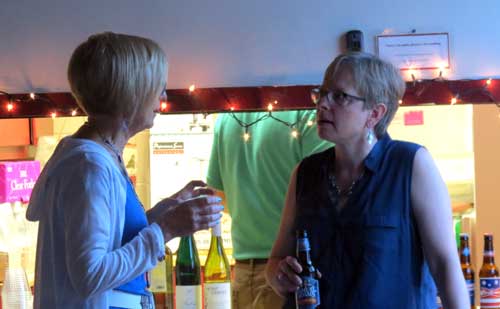 Thanks very much to the Eureka Grange for the use of their famous striped tent.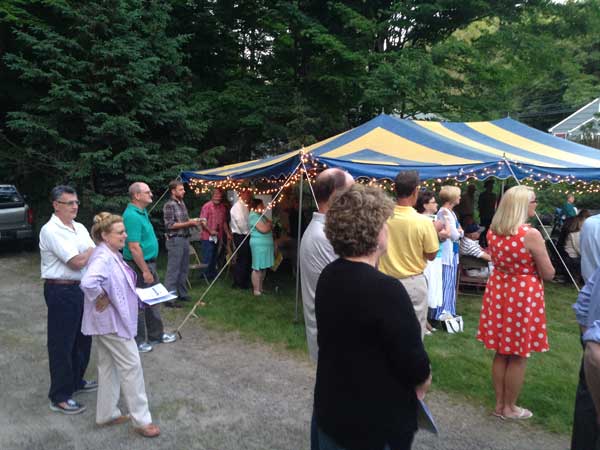 Board member Emily McAdam put together a gripping slideshow about the library's history. Didn't anyone get a picture?
Thanks also to Union Savings Bank for sponsoring our celebration.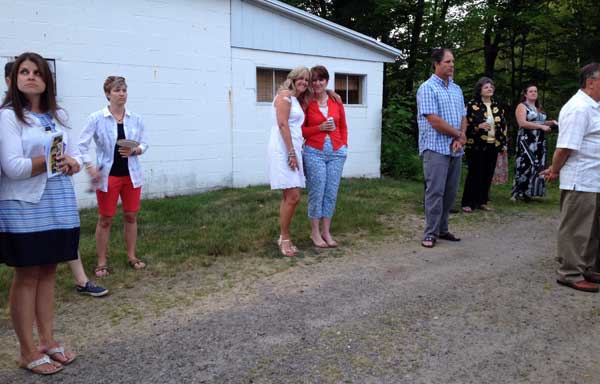 Thanks to the 65th Anniversary Bash committee:
Elaine Carmelich
Kathy Kinane
Dianne Litchfield
Emily McAdam
Mary Lynn Leon
Carmen Neale
Paulina Auclair
Joan Auclair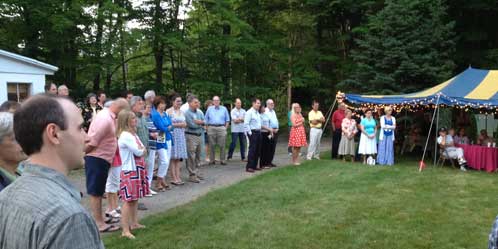 Jolene the raffle car was in attendance...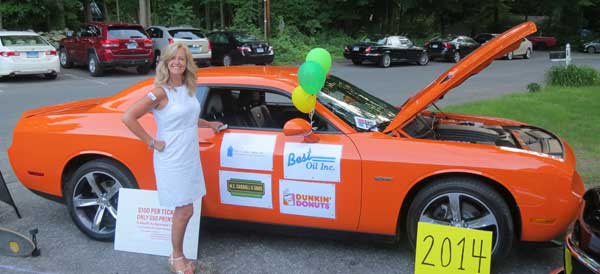 ...as well as her grandmother, a 1949 beauty.