Thanks to all for a successful
2007 Bakerville Marketplace and Used Book Sale!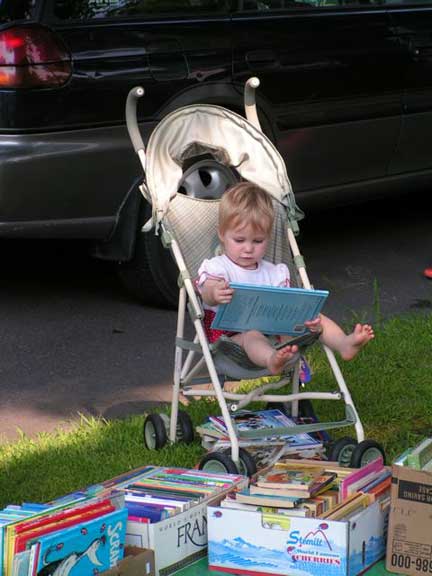 In all, we raised more than $4000 from the teacup auction, book sale, vendor applications, and donations. All these proceeds benefit the library we love.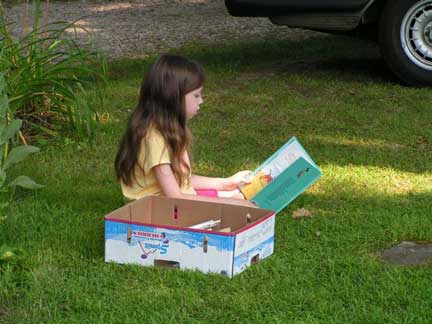 Here is a partial list of all the people we'd like to thank:
The Friends of the Bakerville Library—
Joan Auclair, Paulina Auclair, Patty Cerruto, Pam Fitzgerald, Andrea Garfield, Debi Garfield, Nancy Pretak, Deb Reardon, Nell Roberts, Kathy White, Milissa Woodward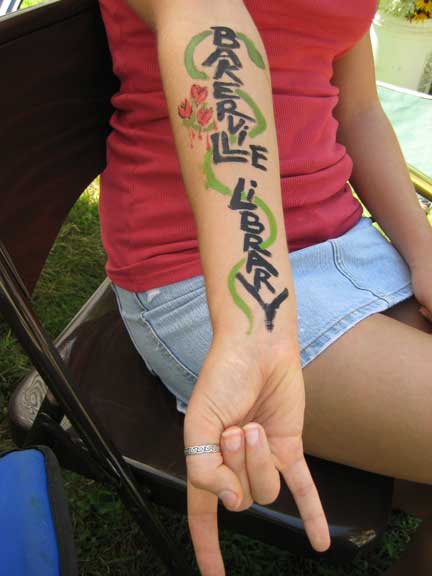 Ready for more? Here are some of the wonderful people who hauled and sorted books, hauled tables, put up and took down the tent, helped man the book sale and the auction, and more: Julia Ashworth, Kevin Ashworth, Lauren Ashworth, Mike Brauer, Mike Carroll, Roxanne Carroll, Deanna DeMichele, Kendal DeMichele, Matt DeMichele, Joe Faulkner, Hank FitzGerald, Tracy Follert, Barbara Goff, Rick Goulet, Carole Korzynski, Julie LaSata, Lance LaSata, Debbie Maccalous, Rich Mika, Ramona Morse, Acadia Otlowski, Bob Pretak, Bill Reardon (mowed the lawn!), Robin Ryan, Joan St. James, Ben Webb, Josh Webb, Phyllis Webb, Sam Webb, Gavin Woodward, Jason Woodward.
Our vendors—
Joan Auclair, Peg Budny, Susan Cosgriff, Andrea Garfield, Holly Kingsford, Dan LaPlante, Priscilla Marshall, Olivia Mecca, Stephanie Muzzulini, Amanda Nygren, Mildred Reed, Nell Roberts, Donna Smith, Sarah Smith.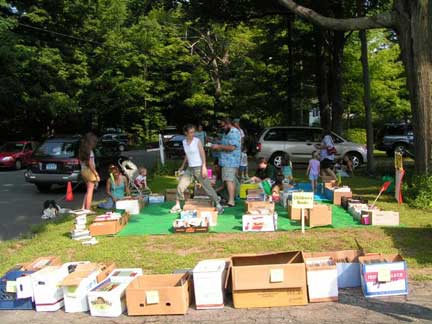 Donors (auction and otherwise); please remember to patronize the businesses in this list!
Joan Auclair
Bakerville Package Store
Bakerville Store
Jeff & Jenn Benaitis
Bodhiworks LLC
Brick & Stone Expressions of New England, LLC
Holly Bunn
M.E. Carroll & Sons
Cathie Buxton
Mary & Julie Cerruto
Cerruto Family
Chatterley's
Kim Ciccarello
The Cork Fine Wine & Spirits
Countryside Spirit Shop
The Cutting Corner
Reggie DeLarm/East Knoll Pottery
Jeannie Dufour
Fairview Farm Golf Course
Hank & Pam FitzGerald
Barbara Goff
Lou Helt
Hogie's Sweet Shoppe
Jacqueline Kane Massage Therapy
J.C. Penney
Cece Jenkins
Jerram Winery
Jimmy's Store
Dan LaPlante
Linda LaPorte
Julie & Lauren LaSata
Betty Leifert
Let's Party
Olivia Mecca
Paulette Mika
Barbara Miller
Stephanie Mozzulin
Price Chopper
Marandino Foods
New Hartford Karate Club
Nygren Family
The Perfect Toy
The Plant Outlet
Deb Reardon
Mildred Reed
Nell Roberts
Karen Rossi
Marta Rubenoff (Rubenoff Family)
Joan St. James
Simplicity Hair Care
Salon Q
Chris & Clark Slate
Donna Smith
Ski Market
Cathy & Brian Thiem
Tonio's Pizzeria
Torrington Toyota
Weingart Farm
Kathy White
Mabel Woolley
Andrea Vandergrift
The Eureka Grange, and especially Earl Phillips, Sandy Phillips, Victor Salazar, and Donald Steeves, for lending us their tents and helping us load and unload them.
The Bakerville Church, and especially Mary Misiorski and Mike Misiorski, for helping arrange for us to use the old firehouse for the book sale, and the men's group for having their Saturday breakfast somewhere else on that Saturday morning.
Deb and Bill Reardon, for letting us use their lawn for part of the book sale, and for parking.
Albreada Waste for the dumpster.
The library's Board of Directors, especially Kathy Kinane, Dianne Litchfield (both of whom helped with the books), Neal Yates (who was willing to have the book sale in his yard, though we ended up across the street), and Linda LaPorte and Kim Ciccarello, though they wouldn't get their faces painted.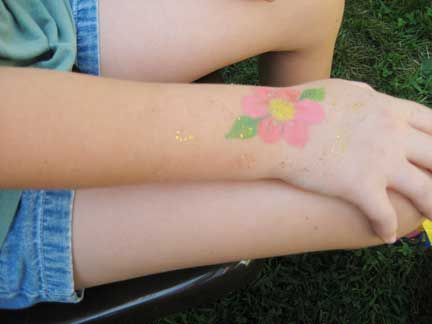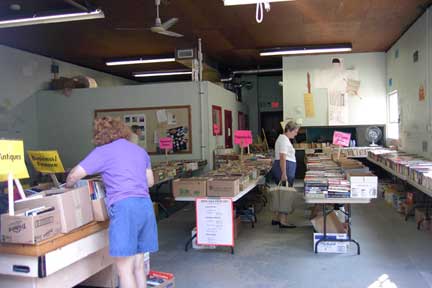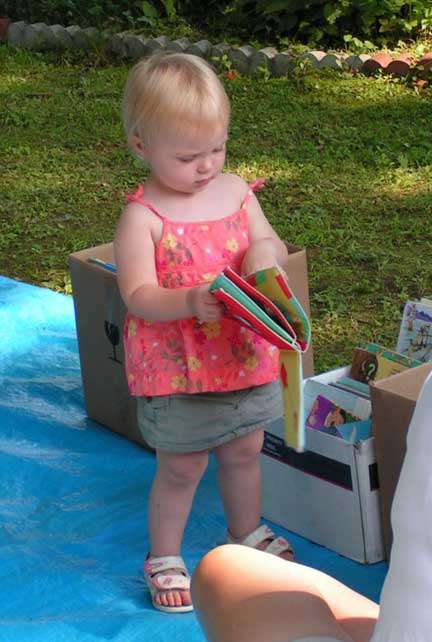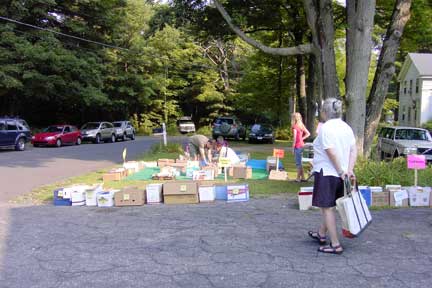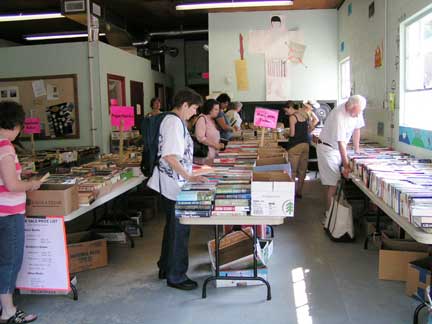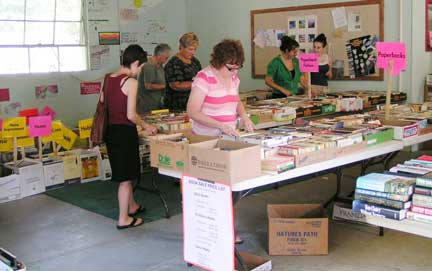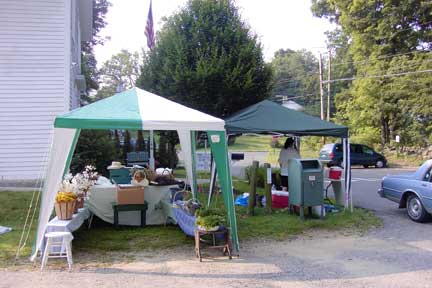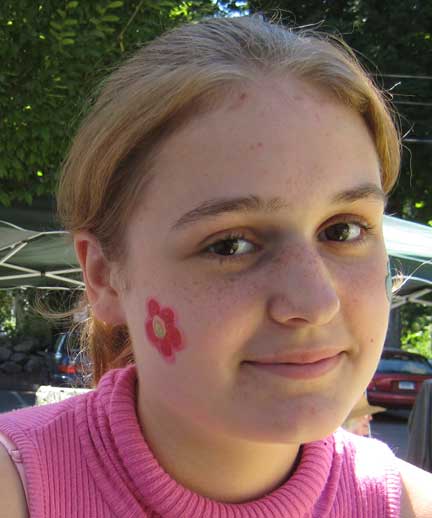 Photos: Milissa Woodward, Nancy Pretak, Joan Auclair