Thank you all for a wonderful day on
Saturday, August 6th. The Bakerville Marketplace
and Used Book Sale was even more successful
than last year's, bringing in more than $3500.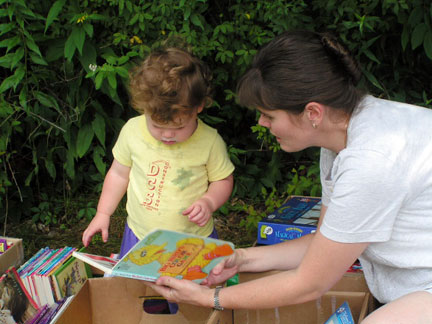 Great literature was everywhere at our book sale this year. Neal Yates and Kathy Beyer again kindly let us trample their lawn and crowd their "barn."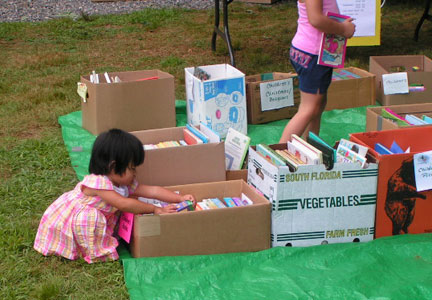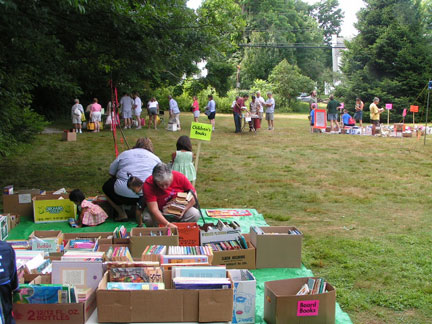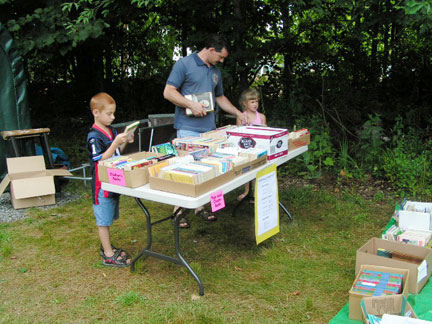 Thanks to the Friends of the Bakerville Library, who worked endlessly to make this event work: Joan Auclair, Holly Bunn, Patty Cerruto, Meg Chisholm, Pam FitzGerald, Andrea Garfield, Debi Garfield, Lois Nygren, Nancy Pretak, Deb Reardon, Kathy White, and Milissa Woodward.
Thanks also to special volunteers who responded when they were needed: Paulina Auclair, Steve Boratko, Mike Brauer, Kim Ciccarello, Marissa Ciccarello, Mike Day, Sue Day, Sandra Gavette, Hank FitzGerald, Bob Garfield, Barbara Goff, Kathy Kinane, Carole Korzynski, Emily Korzynski, Dave Nygren, Linnea Nygren, Jeanne Phillips, Bob Pretak, Amy Recinos, Tony Recinos, Eli Roberts, Nell Roberts, Josh Webb, and Phyllis Webb.
And finally, thanks to library staff Julie LaSata, Debbie Maccalous, and Kim Gazso for putting up with flyers, signs, donated books, and auction items in their way for so many weeks.
Photos: Nancy Pretak