New Hartford Festival of Arts, Saturday, October 1, 2005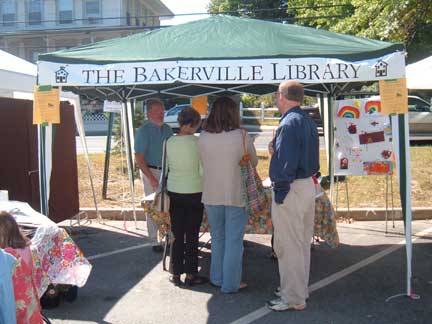 Neal Yates has written a history of Bakerville, Where Walk the Souls of Heroes, a narrative that evolved from his initial research into the history of his central Bakerville house. In conjunction with the Friends of the Bakerville Library, he has published his first edition, and sold copies at the Festival of Arts to benefit the library. This generous effort has so far brought in more than $400.
You may pick up your order forms at the library; we expect to have more copies available by our Holiday Gala, coming up the first weekend in December--just in time for holiday giving. Where Walk the Souls of Heroes has something for everyone--history, detective work, local lore, comedy, and who-lived-where-when.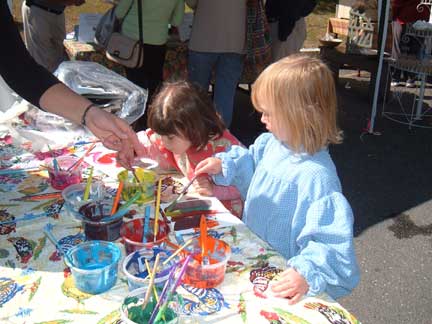 While adults chatted with Neal (above), children got into the spirit of the festival and painted to their hearts' content. Thanks to all our volunteers who set up, cleaned up, supervised painting, got last-minute supplies and food and drink, and encouraged visitors to check out our booth: Neal Yates, Phyllis Webb, Ben Webb, Sam Webb, Joan Auclair, Nell Roberts, Sandra Gavette, Lois Nygren, and Julie LaSata.